Lyon
Lyon, third largest city in France, the world's capital of silk, capital of the Alps, the world's culinary capital and historic city where is one of the most important tourist destinations. This city was founded about 2000 years ago.
Basilica Church (La basilique notre dame de Fourvière):
Basilica Church was built between 1872 and 1884 in a dominant position overlooking the city.
The design of the basilica, by Pierre Bossan, draws from both Romanesque and Byzantine architecture, two non-Gothic models that were unusual choices at the time. It has four main towers, and a belltower topped with a gilded statue of the Virgin Mary.
Park of the Golden Head (Parc de la Tête d'or):
Park of the Golden Head is a large urban park in Lyon with an area of approximately 117 hectares with  features a lake on which boating takes place during the summer months. In the central part of the park, there is a small zoo, with elephants, giraffes,reptiles, deer, primates, and other animals. There are also sports facilities, such as a velodrome, boules court, mini-golf, horse riding, and a miniature train.
Traboule:
Traboules are a type of passageway primarily associated with the city of Lyon which they were originally used by silk manufacturers and other merchants to transport their products. The first examples of traboules are thought to have been built in Lyon in the 4th century
Presqu'ile Distric:
Presqu'ile Distric is the heart of Lyon and due to its beautiful architecture is distinct from other parts of the city.
Extending from the foot of the Croix Rousse hill to the confluence of the Rhône and the Saône rivers, it has a preponderance of cafe, restaurants, luxury shops, department stores, banks, government buildings, and cultural institutions.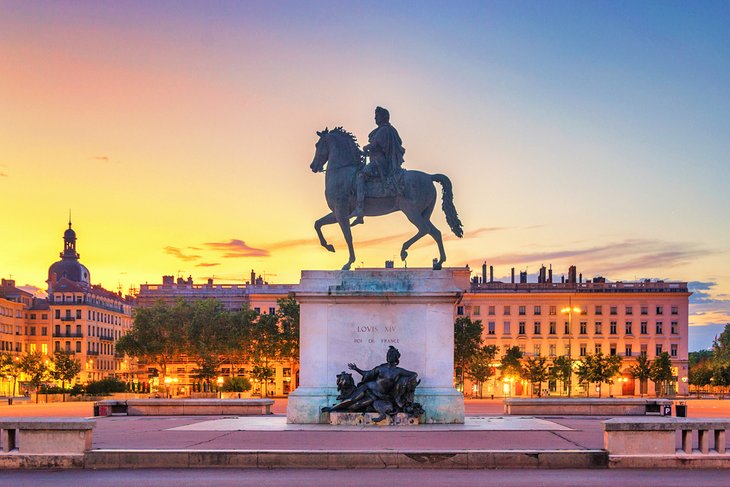 Museums of 
Lyon:
Musée des beaux-arts de Lyon
Musée des Tissus et des Arts décoratifs
The Gallo-Roman Museum
Centre d'histoire de la résistance et de la déportation
African Museum of Lyon
Musée des Automates
Musée Gadagne (museum of the history of Lyon)
Musée des Confluences
La Sucrière (contemporary art center)
Musée des Hospices Civils
Musée d'art contemporain de Lyon (contemporary art museum)
Musée de L'imprimerie (printing museum)
Other tourist attractions in Lyon:
Quartier Saint-Jean and Quartier Saint-Georges (Old Town)
Statue of the famous Terreaux Square
Bellecour Square
The Roman Theater of Fourvière
Cathédrale Saint-Jean Baptiste Cathedral
Canuts Wall
Abbaye Saint-Martin d'Ainay
Best Souvenir from Lyon:
Lyon silk
Cheese
Sausage
Lyon traditional pastries (like paralin)
Guignol dolls
French soap